Dark Canvas by Julia Wild
*Award Winning Book*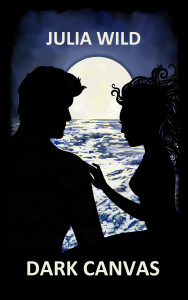 Dark Canvas won the Romantic Novelists Associations New Writers Award in 1997, when it was originally published by Scarlet.
Abbey is at the height of her career, has a lovely home and a steady boyfriend. All is wonderful until someone begins to threaten her. Jake Westaway comes into her life when he brings Abbey a message. He has no intention of sticking around, since she's definitely not his type, but somehow, he has difficulty leaving…
http://www.amazon.co.uk/dp/BOOPBAOZY6
Genre: Contemporary Women's Fiction/Romance/Romantic Suspense
Tags: Intrigue, Mystery, love
---
After being made redundant in 2014 after 18 years working for the Library service, I made the decision to work on putting my back-list of published books onto Amazon as eBooks. Dark Canvas was my first published book and I have been thrilled that it has attracted some fabulous 5-star reviews on Amazon.
Five Star Review: I downloaded this whilst lying by the pool on holiday in Egypt. Despite the glorious infinity pool and the calling of the all inclusive bar I didn't leave my sun lounger all day once I had started the book. Gripping story line, believable characters and just when you think you've figured out where the story is going great plot twists. All of this is tied together with a bit of raunchiness and it delivers a wonderful read. The author clearly has great talent and I can't wait for more books!!!!! *****
Five Star Review: Totally enjoyed this book. It's not my usual genre as I usually read horror books, but I was told I'd enjoy it by a friend. My friend was right. it's quaint and a wonderfully easy read. I loved the characters and found myself totally enthralled by the story to the point a was dreaming about what would happen next. looking forward to the next book by Julia Wild.*****
Five Star Review: This is my first read of Julia Wild and certainly wont be the last by any means, it grabs you and just can't put it down, its one of those books that you can read again and still be enthralled. Julia has a great talent with her writing and I'm thrilled that her books are now available for my kindle and can't wait to read her next book. Thank you ~Julia for an awesome read.*****
Five Star Review: Dark Canvas is an intriguing tale about Abbey who has everything, but then her life begins to fall apart as she is menaced from an unknown source. The tension holds the readers attention, wondering what is going to happen next. This is well written with a plot that keeps the reader turning the next page with baited breath. A good read!*****