Home
Soul Whispers – Published July 2016 
Take one luxury yacht, add a gorgeous, sexy man, blend with romance and sprinkle with dreams… Megan Lacey is through with love! Jordan Elliot made a fool of her and she's not going to let that happen again. A husband who's gone walkabout isn't a great advertisement for marriage; Megan is determined to forget Jordan as quickly as he seems to have forgotten her. What better way than a few passion-filled nights with a mysterious, desirable stranger – who might not be all that he seems?
E book:        www.amazon.co.uk/Soul-Whispers-Julia-Wild-ebook/dp/B01J0CIV5O/
Paperback:  www.amazon.co.uk/Soul-Whispers-Julia-Wild/dp/1507824173/
Moon Shadow – Published February 2016
'You'll destroy me if I let you…'
Ellie Morrison is an actress by trade, so what's she doing on a ranch in Montana posing as a housekeeper and investigating the murky past of its good-looking owner Declan Kelloway? And why does she find herself attracted to her new boss? After all, she has a perfectly satisfactory man in her life. And Declan is just part of her job, isn't he?
E book:       www.amazon.co.uk/Moon-Shadow-Julia-Wild-ebook/dp/B01BDS33RE
Paperback: www.amazon.co.uk/Moon-Shadow-Julia-Wild/dp/1507815921/
Blue Silk Promise…
Nick knows that there is something wrong. Surely he would remember being engaged to someone as quirky and gorgeous as Kayanne? But she insists they are to be married and that she is passionately in love with him. And so the wedding goes ahead and Nick is soon honeymooning with his bride, though it is a honeymoon in name only.  But out in the darkness there is someone who is determined to keep it that way – someone who has reason to want Nick dead and Kayanne "widowed"…
www.amazon.co.uk/Blue-Silk-Promise-Julia-Wild-ebook/dp/B00QTPQJWS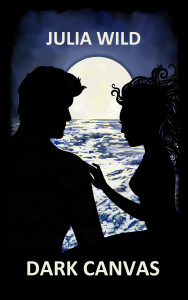 Dark Canvas ~ Winner of the RNA New Writers' Award in 1997
Abbey is at the height of her career, has a lovely home and a steady boyfriend. All is wonderful until someone begins to threaten her. Jake Westaway comes into her life when he brings Abbey a message. He has no intention of sticking around, since she's definitely not his type, but somehow, he has difficulty leaving…
www.amazon.co.uk/Dark-Canvas-Julia-Wild-ebook/dp/B00PBAOZY6
---